Arethousa was an Arcadian wood nymph who, in order to flee the amorous advances of the river-god Alpheus, was changed by Artemis into a spring of water. According to ancient authors, a famous spring of Arethousa was located near Halkida (on the island of Evia), which supplied the city with copious water.
Villa Arethousa is located in the lush central half of the unspoilt Greek island of Evia (Euboea), near the villages of Nerotrivia and Dafni, which are surrounded by an abundance of brooks, springs, olive trees, and pine forests. The secluded villa, set in three acres, has three bedrooms with en-suite bathrooms, sleeps 6-8 people and features a private swimming pool with hydro massage. It is highly accessible from Athens and the mainland all year round and is 800m from the nearest beach.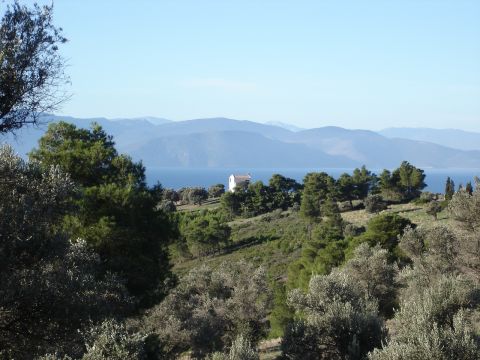 Combining the crystal clear waters of the Evian gulf with the lush Mt Candili and its environs, it is an ideal place to get away from it all, whilst at the same time offering a convenient base for an activities-packed vacation.